Halloween Baby Food Jar Candy Dishes
This is a quick and easy craft that even toddlers and young children can make.  They make great candy dishes or spooky containers for storing small items.  You can also hand them out as gifts for Halloween.  Neither glue nor paint are required!
A family member gave me some awesome Halloween window clings they didn't want anymore.  My two-year-old daughter loves decorating the windows with them.  It keeps her entertained for awhile since she can continually peel them off and stick them back on the window over and over again.  I decided the window clings would be great for her to use in a craft since they are easy for her to manipulate.  I have a stash of baby food jars and thought it would be cute to decorate them with the window clings for Halloween.  Read below if you are interested in making these cute containers.
Materials (for bottom of dishes):
– Baby food jars (or any type of glass jars you wish to use)
– Vinyl window clings
Materials (for lids):
– Yarn
– Tissue paper
– Any kind of paper with Halloween images (wrapping paper, paper gift bags, etc.)
– Permanent double-sided tape
– Hot glue gun/glue (optional)
– Adhesive gems
Directions:
Before making your Halloween dishes, make sure you clean the jar and its lid.  In order to decorate the glass body of the jar, all you do is simply place the window clings wherever you would like on the jar.  That's it!
I tried to come up with ideas for decorating the lids that don't require paint or glue in order to minimize mess (if little ones are involved) and so the jar would be safer to use for storing candy.  Below are the ideas I came up with along with the directions for each.
Yarn-Wrapped Lids
Believe it or not, I did not use glue to make these yarn-wrapped lids!  My secret was permanent double-sided tape that I had for scrapbooking.  In order to make a yarn-wrapped lid, first cover the entire top and outer side of the lid with the double-sided tape.  Next, place the end of your yarn in the center of the top of the lid and tightly spiral it around itself while pressing it onto the tape.  Continue wrapping it around the edge and side of the lid until you cover the entire outside of the lid with yarn.  It may get tricky to keep the yarn in place around the edges and at the very end, so you may find it easier to use a little glue in these areas.  After you have finished wrapping the lid with your yarn, you may wish to add embellishments like the adhesive gems I used from the dollar bin at Michaels.  Once the lid is finished, you can store your candy or other items inside the jar.  I thought it would be spooky looking to store my googly eyes in a jar!
*You may wish to use glue entirely instead of the tape and that's fine too!  I just wanted to use a method other than glue that may be easier and less messy for young children to try.  To be honest, I tried making one using hot glue and it turned out terrible!  There was visible hardened glue all over the yarn making it look really sloppy.
Decorative Paper-Wrapped Lids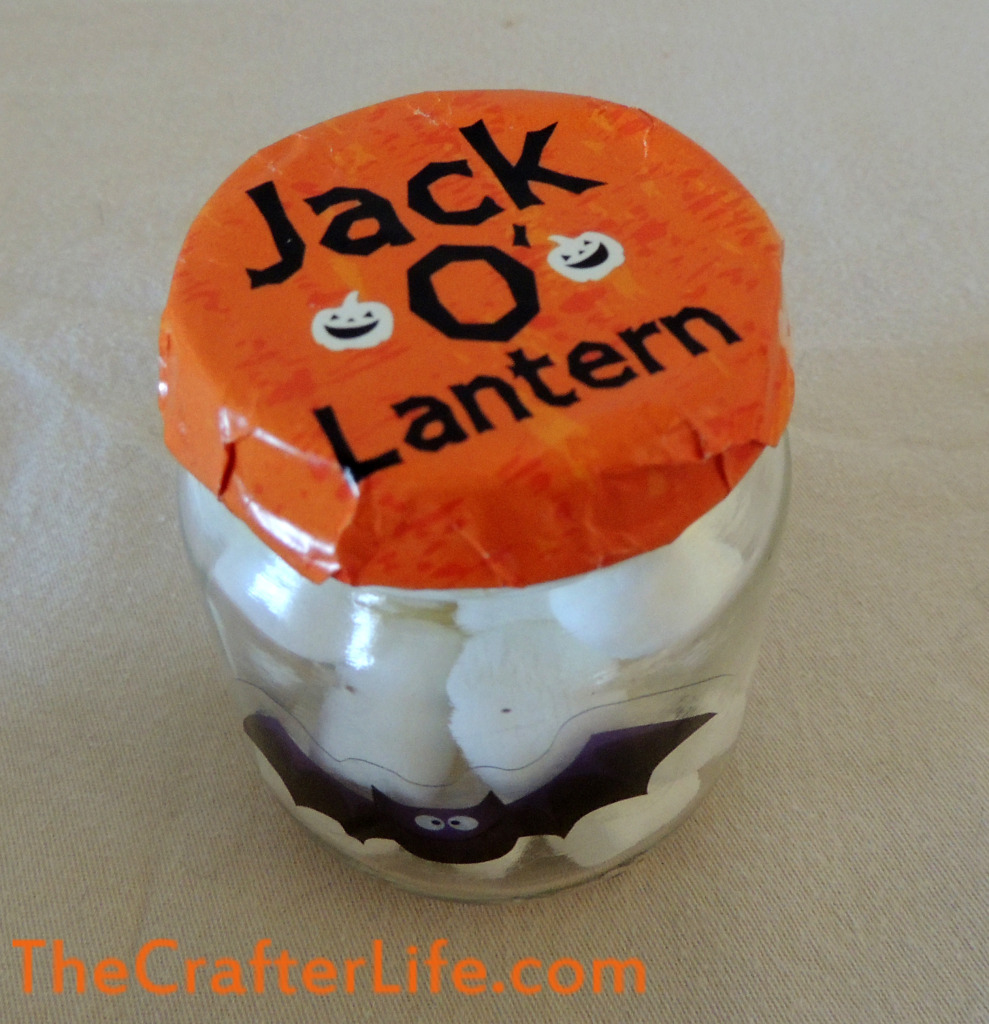 Another idea I had for decorating the lid was to wrap it in decorative paper with Halloween-related images or sayings.  You may wish to use Halloween wrapping paper. I had a Halloween paper gift bag someone had given us with Halloween sayings all over it.  I simply cut one out of the bag and wrapped the paper over the lid.  You may wish to use tape or glue to hold it in place.  My daughter loves mini marshmallows – don't they look cool in this jar?
Tissue Paper Lids
The tissue paper lid is probably the easiest method for younger children to use.  Again, I used double-sided tape instead of glue.  In order to make these lids, simply cover the entire outside of the lid in the double-sided tape.  Next, select a few colors of tissue paper and begin tearing off small pieces of each color (you don't even need scissors!).  Finally, stick the pieces on the lid however you wish.  Don't you think my two-year-old did a great job on these lids?!  We tried to match the colors with the candy inside the jars.
I would love to see the dishes you make.  Please tell me about it here or share photos of your creations on my Facebook page!
**If you like what you see, feel free to pin, share, and link back to my site.  Thank you for visiting!
You May Also Like
December 24, 2015
January 6, 2019
December 15, 2015