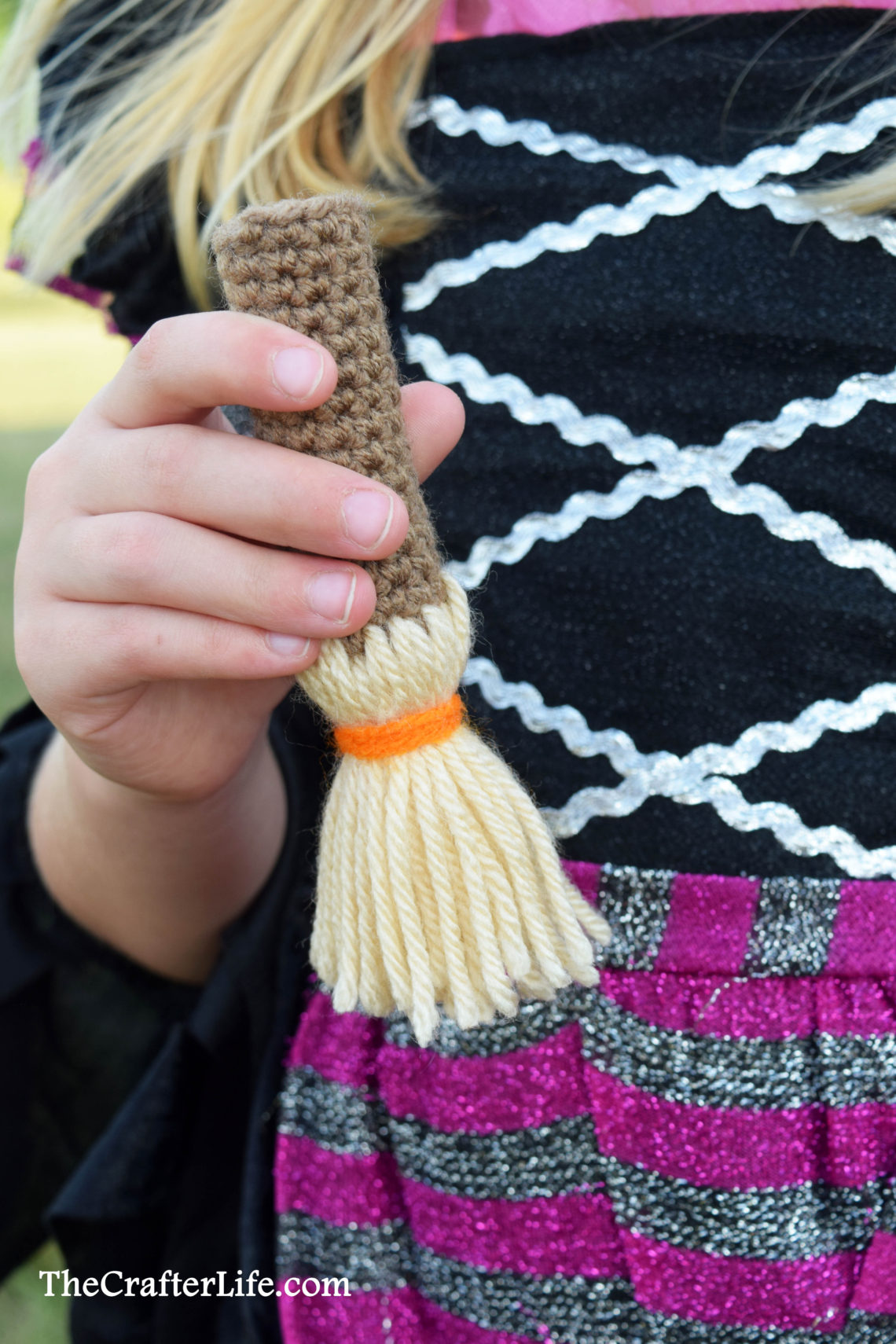 Broomstick Lip Balm Holder
Broomstick Lip Balm Holder
My broomstick lip balm holder is a fun and quick project to make for Halloween! If you have any special trick-or-treaters coming to visit, this would fit perfectly in their candy/treat bucket! It's a festive way to display and use your lip balm for the Halloween season. It would also look cute with some added embellishments.
This broomstick lip balm holder is written to fit standard size sticks of lip balm.
FINISHED MEASUREMENTS
The broomstick is approximately 5 inches long and approximately 3 inches around where the lip balm sits.
MATERIALS
– Size F/5/3.75mm crochet hook or size needed to obtain gauge
– Worsted weight (4) yarn in Dark Brown (I used Red Heart Super Saver yarn in Café Latte.)
– Worsted weight (4) yarn in Tan (I used Red Heart Super Saver yarn in Buff.)
– Scissors
– Tapestry needle
– Measuring tape
Optional Items:
– Stitch markers (if needed for marking stitches/rows)
ABBREVIATIONS
– ch = chain
– chs = chains
– sc = single crochet
– slst = slip stitch
– st = stitch
– sts = stitches
GAUGE
5 sc = 1 inches; 6 rounds = 1 inch
PATTERN NOTES
The broomstick is made in continuous rounds. Do not join round with a slip stitch unless otherwise indicated. Simply work the first stitch of a round in the first stitch from the previous round. You may wish to use stitch markers to mark the beginning of each round to keep track more easily.
Close the magic ring and weave in the loose end at the beginning since it gets very narrow as you work and it will be difficult to weave in at the end.
DIRECTIONS
Broomstick
*The broomstick is made in continuous rounds. Do not join rounds with a slip stitch. Simply make the first stitch of a round in the first stitch of the previous round.
*Make sure to pull the magic ring closed and weave in/secure end at closure at the beginning.
*Use your dark brown worsted weight yarn.
Round 1: Make a magic ring, ch 1, work 6 sc in magic ring, pull ring closed. (6 sc)
Round 2: 2 sc in each st around. (12 sc)
Rounds 3–16: Sc in each st around. (12 sc)
Round 17: Sc in each st around, slst in first st of round, fasten off and weave in end. (12 sc)
***You should now have the main portion of your broomstick holder complete. Follow the directions below to make the bristles of the broom.
Broom Bristles
Cut 38-40 strands of tan yarn that are each about 6 inches long.
Holding 2 of the tan strands together at a time, use your tapestry needle to pull each pair through the top of a stitch from Round 3 and back out the bottom of the same stitch so the strands hang down like the bristles of a broomstick. Do this for all the stitches of Round 3. Use your extra strands of yarn to fill in the middle of the bristles by doing the same thing with the stitches of Round 2.
Trim all the bristles to the same length (you will probably want to trim about ½ an inch off the ends to get them to a proper length.
 Cut a piece of yarn ( I used orange) about 10 inches long. Wrap the yarn around the bristles two to three times to achieve your desired look. Then knot the strand of yarn, pulling it slightly snug around the bristles, to create the shape of the broom bristles. Then cut the excess yarn right at the knot.
**You are now ready to try out your lip balm holder!

The pattern and photos of this item are the property of TheCrafterLife. This pattern and design are subject to copyright, and are for personal, non-commercial use only. You may not distribute, sell this pattern, or claim it as your own under any circumstances.
You may not sell my patterns or claim them as your own. You may make items to sell (i.e. on Etsy) from my patterns but I ask that you link back to my site and provide credit for the pattern. You are welcome to share my patterns on social media as long as you link back directly to my site by providing the link. No copying and pasting of any patterns will be allowed under any circumstances.