Monster Cut-Outs with Printable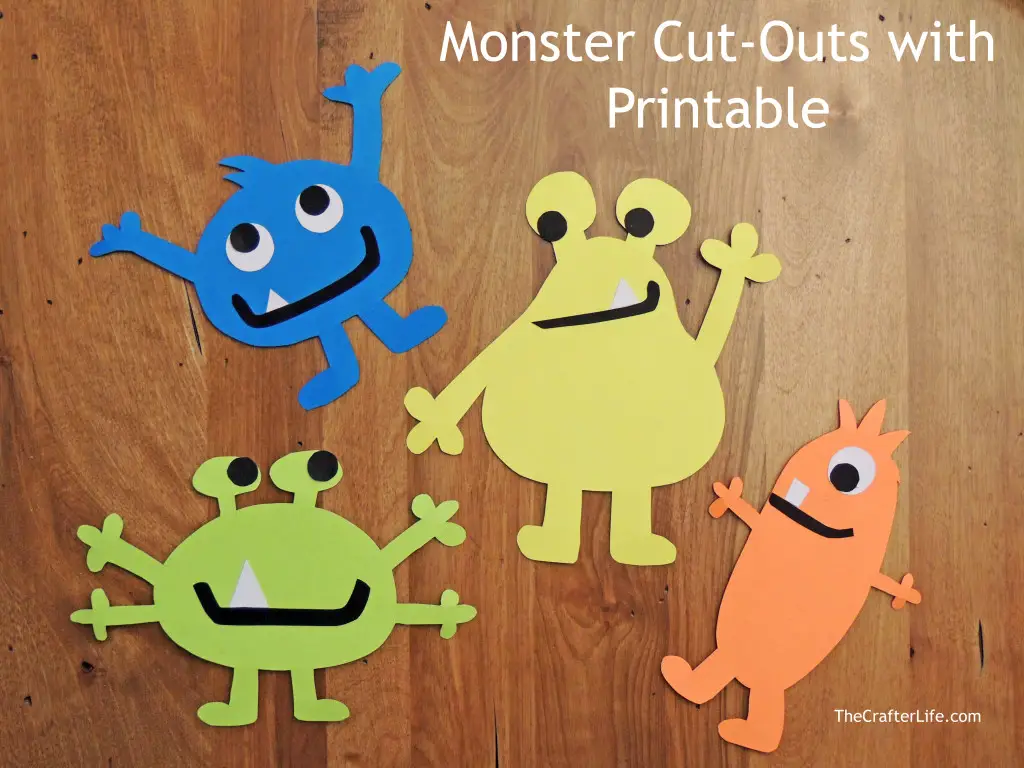 I made these monster cut-outs to use at my son's monster birthday party.  It's actually really easy to draw monsters since they don't have a specific body shape – you can make them as crazy looking as you want!  If you like my monster designs, feel free to use the printables below to make them for yourself.  It would make a fun activity for kids as well.  If you are interested in making your own monster cut-outs, see below for directions.
Materials
– One sheet each of blue, green, yellow, orange, black, and white cardstock (from amazon)

– Pencil
– Scissors
– Glue – or – double-sided tape
– Optional: Monster printables (found below)
Directions
1. Draw your monster outlines (or trace my printable monsters) onto the colored cardstock.  If you are using my printables, I traced the monsters on the reverse side so when you cut them/trace them, you can turn them over and you won't see any pencil lines.
2. Cut out your monsters.
3. Draw mouths and pupils for each monster (or trace them from my printables) onto black cardstock.  Then cut them out using your scissors.
4. Draw monster teeth and the larger eyeball outline (or trace them from my printables) on white cardstock.  Then cut them out using your scissors.
5. Glue the mouths, teeth, and eyes onto your monsters.
6. Have fun using your monsters creatively!  I made mine into magnets and will show you how I displayed them at my son's party in my next post.
Blue and Orange Monsters Printable
---
Feel free to post comments here or on my Facebook page!
**If you like what you see, feel free to pin, share, and link back to my site.  Thank you for visiting!